It's not yours, or mine – it's our cancer
Ask a room of strangers, who here has been touched by cancer and nearly every person in the room will raise their hand. Today, one in two Canadians will be diagnosed with cancer in their lifetime and more than one quarter will lose their lives. Cancer is the most significant health problem facing Canadians and is the leading cause of death in our country.
This past year alone, approximately 7,000 new cancer patients visited our Hospital.
This earns Durham Region the unwelcome designation of having only 1% of Canada's population but 3% of the country's cancer cases. Already one of the fastest growing metropolitan areas in Canada, Durham Region will double in size in the next 20 years and see a projected 58% increase in cancer cases by 2041.
Cancer is the #1 cause of death in Canada, but the good news is that it can be beaten.
We are diagnosing cancer earlier and helping people live longer thanks to incredible advances in prevention, screening and treatment. Discoveries in cancer genetics and advanced imaging mean doctors can stop some cancers before they even start. New minimally-invasive models of care are allowing for personalized cancer treatments with fewer side effects and less risk of complications. State-of-the-art equipment technologies mean patients can undergo surgery with tiny incisions, less time in hospital and fewer complications, so they can get back to their lives and their families sooner.
This is the quality of cancer care available right now at the R.S. McLaughlin Durham Regional Cancer Centre — built because donors and community members saw an overwhelming need for local cancer care and made it happen. Here, patients and their families, health care providers, scientists and donors are working tirelessly to fight cancer in the best way possible. Together.
Please join us to change the course of this disease, stop the staggering statistics and save lives. Donate today.
"When your life gets turned upside down, the last thing you want to worry about is commuting for cancer treatment. Having family and friends close by is part of the healing process. I'm so grateful to have had all aspects of my cancer care in my own community."

— Lindie, Brooklin resident, breast cancer survivor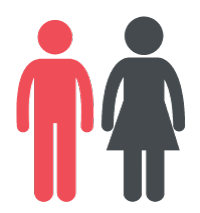 1 in 2
people will be diagnosed with cancer in their lifetime
7,000
new cancer patients came to Lakeridge Health last year